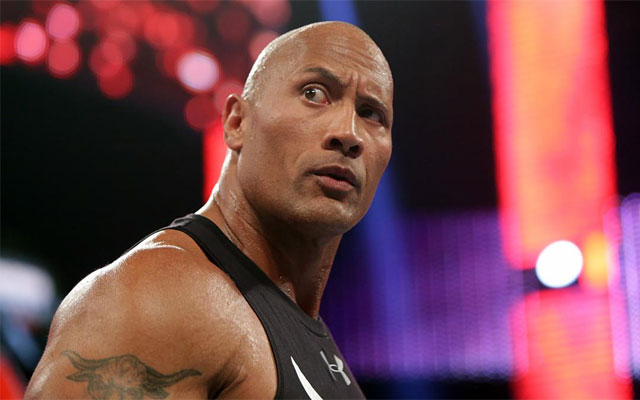 In the 84th episode of Keep Moving Forward I talk about my pursuit to interview Dwayne "The Rock" Johnson for episode 100 of my podcast.
MARCH 14, 2018 could quite possibly be one of the biggest days in Keep Moving Forward history. As of today, we are 16 weeks out from THE big day. When episode 100 of this podcast will be published. 100 weeks of continuing to move forward will hit the airways, so I started thinking about how to best capture this moment in KMF history.
When episode 100 of Keep Moving Forward is released, I have a big plan in the works. My desire is that episode 100 of the Keep Moving Forward podcast will feature an interview with Dwayne "The Rock" Johnson. This idea came to life when I was speaking with a mentor of mine a few weeks ago. He suggested an interesting tactic in securing guests, and namely, "big name" guests. He had me consider who the "big get" would be for my podcast. Who is someone I would love to speak to more than anyone else. My initial response was Rudy Ruettiger, a man who's been my biggest role model since I was 10-years old, but whom I've already had the privilege to interview for episode 9. After thinking about it for a few days, though, I realized the perfect guest for my show is Dwayne Johnson: a former professional football player, sidelined by injury, and having to learn how to transition in so many facets of life, all the while using his athletic background as jumping off platform. Speaking to him about how he made it through each of these transitions, what his entire athletic career was and is like, how he is so driven to succeed in everything he does…I can think of no one better.
I began my pursuit of the Rock three and a half weeks ago, in the aftermath of the release of the 80th episode of KMF.I figured that 20 full weeks would give me enough time to gain some traction and to someone establish a connection with the man, the myth, and the legend who is The Rock. Like has been customary with my other guests, though, I could have kept my pursuit under wraps. Not letting anyone in on this journey with me until it became a sure thing, if it ever did. But, I did not do what I normally do. Instead, I went public with my intentional chase for three reasons:
1. Dwayne Johnson is incredibly active on social media and, to date, I have found no other way to get in contact with him. So, every single day, I write a post, comment on something he's done, try to incite conversation with him or whomever runs his social media in some manner. I always tag either Keep Moving Forward or myself, depending upon what account seems most relevant to post from. I get an alert in my calendar when it's time to do my Rock post for the day, and I just throw something out there. Additionally, I use his platforms to stay relevant with all the news in his world. Any movie that's coming out, any event he's done, any charity he's supported. Most recently, his Under Armour line, The Rock Project, dropped. Of course, I bought a work out tank top from his line, because it's awesome and I am so excited to work out in it, but also because I want to support his projects and, obviously, take some pictures in it help further develop my more fully my public pursuit of him (you'll see those pop up in the next few days, for sure).
2. I need your help, my tribe dedicated to the pursuit of moving ever forward. I actually want to reach The Rock and my best bet seems to be through sharing and tagging social media. I want engagement from all sides. Another piece of advice I received was to find the first degree in the six degrees of separation between me and The Rock. There has to be someone who knows something about him, I just have to establish a connection with that first degree and press onward until I find the next one. There is probably a connection I never thought to make before, so in putting my pursuit out there, someone has to know something.
3. I want you all to hold me accountable in this daily pursuit. Making me prove that I am, in fact, doing all that I can to make this interview a reality. Accountability is the only thing that will make this work. It's easy to tell myself I will do something, and if I get distracted and off task then I am the only one who knows. But with this, I want it to be seen and heard that this pursuit is real. I am actively doing something every day to establish a connection with The Rock...and I want you guys to keep me honest in that. So just check out my progress at the end of each week in my blog post and let me know if you think I can be doing something better.
Maybe you think this is ridiculous and that it will never happen. Or worse, that this is simply some stunt to increase web traffic and get more podcast downloads. Perhaps you think that maybe this could actually happen, but you're thinking that goals must be tangible, measurable, and realistic. All these questions are valid. But, I know this could happen, I would never do anything as empty as a simple publicity stunt, and I can assure you my thought out plan is all parts tangible, measurable, and realistic:
Tangible: I have 20 weeks to secure an interview with The Rock. It's within reach. I have a deadline.
Measurable: Securing an interview with The Rock will solidify one heck of a 100th episode. If my journey there is unsuccessful, then I have this 20-week period (now down to 16 weeks) to go all out and determine whether or not I did everything in my power to conduct this interview.
Realistic: I've interviewed people on my podcast whom I've looked up to my entire life. From Rudy Ruettiger to Evander Holyfield…never in my wildest dreams did I think I would ever be able to have conversations with these incredible human beings. But I have. So, the way I see it, I have a chance to get this interview if I work hard enough for it. Because I think we all know at this point that giving up is for rookies.
You can follow along with my pursuit of The Rock on Facebook, Instagram, and Twitter.
If you guys enjoy Keep Moving Forward and want to tell me so, I would love for you to leave me a review on iTunes. And if you really like my show and would like for me to give you a shout out at the beginning of my next episode, you can donate as little as $1 to my podcast and become a loyal patron at Patreon.
Always remember, you can beat the odds and go the distance, if only you keep moving forward.